Learn Chinese in Chengdu with That's Mandarin
Learn Chinese in Chengdu with our professional native Chinese teachers.
You can choose between group and private Mandarin Chinese classes. China Student Visa is provided.
Chinese Courses for Adults
CHOOSE HOW YOU WANT TO LEARN CHINESE IN CHENGDU
Chinese Courses for Kids & Teens
CHOOSE HOW YOU'D LIKE YOUR CHILDREN TO LEARN CHINESE IN CHENGDU
Courses and programs for kids & teens aged 7-17 in Chengdu.
Get 2 WEEKS of FREE
Chinese Classes
Original Price: ¥600
Get 2 WEEKS of FREE Chinese Classes
Original Price: ¥600
Got Questions? We Have Answers
What will my Mandarin classes be like?
Each class is 45 minutes. As the vast majority of our students take more than one class per day, a 10-minute break between classes proves to be both necessary and helpful for students to process what they've just learned.
Part-Time courses include 4 classes of lessons per week.
Intensive Courses include 20 classes of lessons per week.
Class schedule for Private classes is flexible.
What will my teachers be like? Are they native speakers?
All our teachers are native Chinese speakers and are university graduates with majors in Chinese language education or Chinese literature.
They have also previously obtained a Teaching Chinese as a Second Language (TCSL, or TCSOL) certificate before they joined us and successfully completed That's Mandarin's mandatory Teachers Training Course (TTC).
Will the classes be taught in English?
All of our classes are taught in Chinese to give students a fully immersive Chinese experience. Even for absolute beginners, our teachers will only use limited English to help you understand them. Our teacher will use pictures, videos, signs and gestures to help you learn.
As your Chinese level progresses, less and less English will be used in your classes and you will be able to understand more and more Chinese every day.
When is the best time to apply for a course?
We recommend to apply at least 3 months in advance to guarantee you will get a spot in a program of your choice, with your preferred schedule. By applying early, you can also benefit from our early bird discount.
Besides, you will need to apply for a Chinese visa at least 30 days in advance and longer if you're applying for a student X2 visa (for long-term Chinese courses only).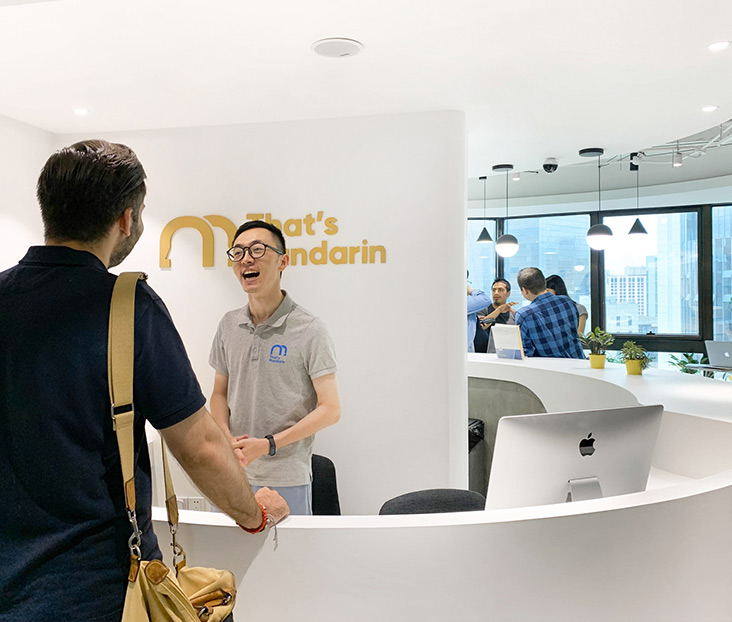 Other Locations
THAT'S MANDARIN CAMPUSES IN OTHER CITIES
Not interested in learning Chinese in Chengdu? We've got campuses in other locations too: