NihaoCafe Online Chinese Learning Platform by That's Mandarin is honored and excited to have received the recognition of
2021 Top Online Language Schools Award
by
GoAbroad Top Online Programs of 2021
!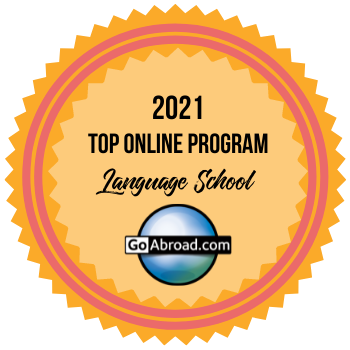 A huge thank you to all the students and everyone who choose NihaoCafe by That's Mandarin.
"I have taken courses at That's Mandarin over the past years off and on… I find the teaching methodology effective: story and theme-based. I had searched for many schools and this is the one I have found most suitable.
— Fatima Bahir, Online Chinese Learning Program: 1-on-1 Alumni, GoAbroad
NihaoCafe Online Language Learning Platform has been recognized for their innovative and systematic approach and has been designed specifically for the Chinese learners.
Despite the challenges and difficulties that came with COVID-19, That's Mandarin has been ahead of time, offering offline & online learning programs to international students. That is what makes NihaoCafe Online Learning Platform by That's Mandarin stand out and deliver an excellent learning experience to the students around the world.
"We are grateful to all our students for choosing NihaoCafe. It is our honor to provide the best online learning programs and support to all Chinese learners.
— That's Mandarin Team