It's time for the second part of "Top Chinese Dating Apps"! Last time there were two most popular dating apps and today we have two more to introduce. But they are not typical dating apps, like Tinder, they have some REALLY specific features. Let's have a look at them.
1. 请吃饭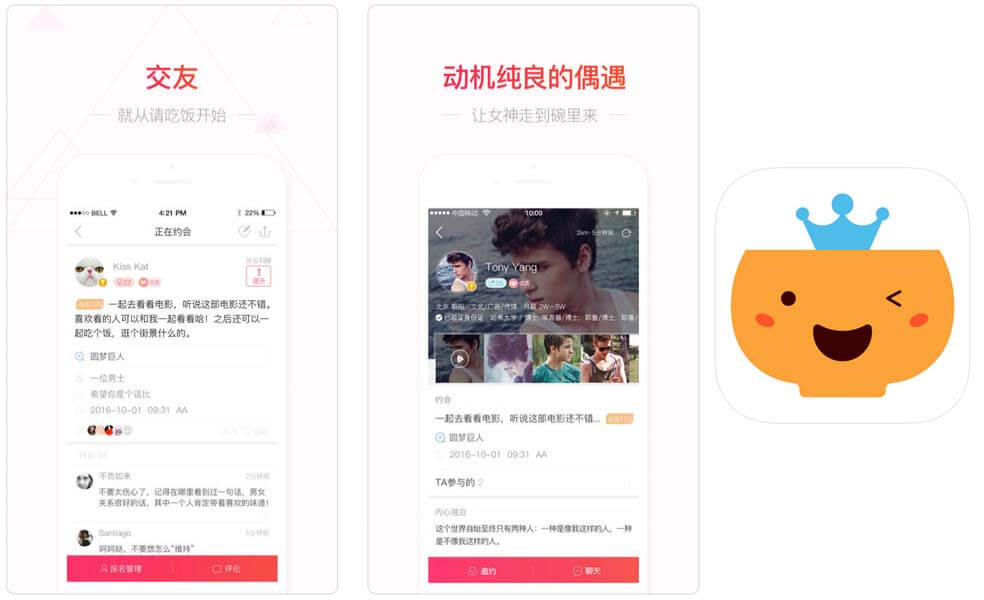 "Let's have a meal" is a mobile app for dating by having a meal together. If you want to go out with someone, you can use credits to post a 'date request', or you can approve to go to a date requested by someone else.
What are the advantages?
♦ PROPOSE DINNER DATES
Everyone can propose a dinner date and become 'a host'. When setting up a new date, you can choose to pay for the meal (我请客), or split the bill (AA). Other people can then see this request, and apply to join the date. The host will see the list of people and chose who he/she likes most.
♦ APPLY FOR DINNER DATES
You always can search for the "I invite" post in the "hot" or "nearby", and sign up for a diner date.
♦ TRUSTWORTHY CREDIT SYSTEM
The app provides a safe environment, so you may rest assured you won't be cheated. There's an in-built credit system. You have to increase you credit of trust. This rating will tell other users that you are not a fraud, the restaurant you've picked is good, and that you can afford it.
♦ EARN CREDITS TO PROPOSE DINNER DATES
There're two ways to earn credits. One is to pay (1 yuan – 1 credit). The other one is your number of successful dates – if people liked you, they can give you credits.
♦ CROSS – PLATFORM
The app runs on both Android and iOS.
2. 柏拉图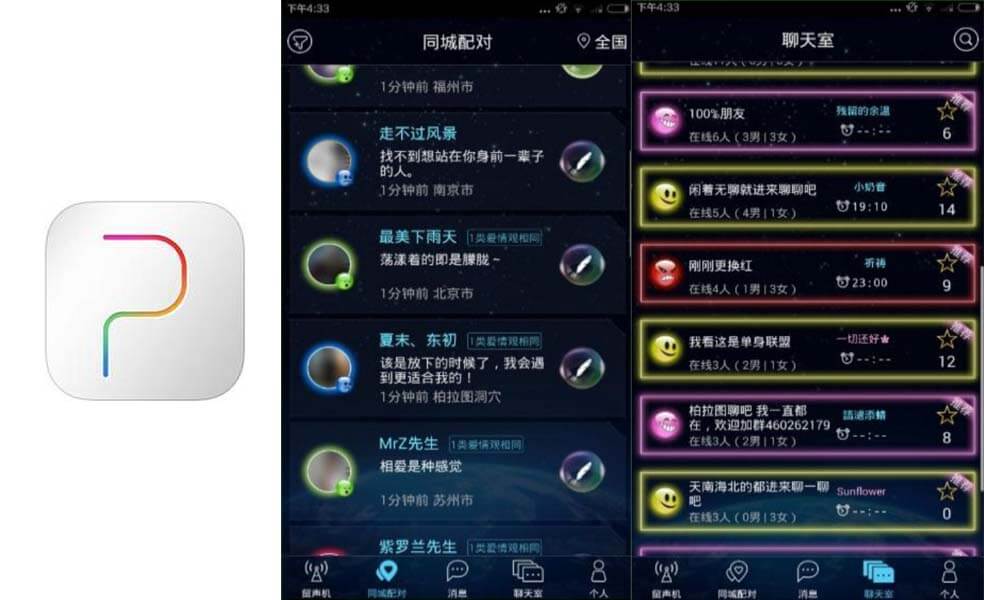 Plato is a dating app, but it has its own specific features. The main idea is that you first chat with someone, and only then can see his/her face. Awesome, isn't it? Soul is always way more important than appearance.
What are the advantages?
♦ FIRST – CHAT, THEN – PICTURE EXCHANGE
The main and most interesting feature of that app is that you first have to chat with a person and only then you'll be able to see his/her face. The photos on both sides of the chat remain vague, and become clearer as you continue chatting. The main idea is simple – first you get to know a person, so you don't get to judge someone based purely on their looks.
♦ PLATO'S QUOTES
If you are not very good at filling in personal information and describing yourself, you can choose three most likely Plato's quotes from the 12 offered, which will reveal your true thoughts and your true self.
♦ MATCHING SYSTEM
The system suggests you people closest to your own view of 'love'.
♦ VOICE MOMENTS
These's a function similar to Wechat's Moments, where you can post you thoughts, or just share your day. The main difference is that you can not only write, but speak too, using the voice recording function.
♦ CROSS-PLATFORM
The app runs on both Android and iOS.
[If you like it, you can also have a look at our post about what to expect at a Chinese wedding.]
[To learn more about dating, you can read our article about dating in China!]
Have you used any Chinese dating apps? Do you find them convenient? 
Share your opinion in comments below – or tweet us at @thatsmandarin!