It's so much easier to learn Chinese if you have Chinese friends! It's always fun to explore another culture by chatting with native speakers. So today, we're going to help you find Chinese friends online. It's Top Chinese Dating Apps. 
1. 陌陌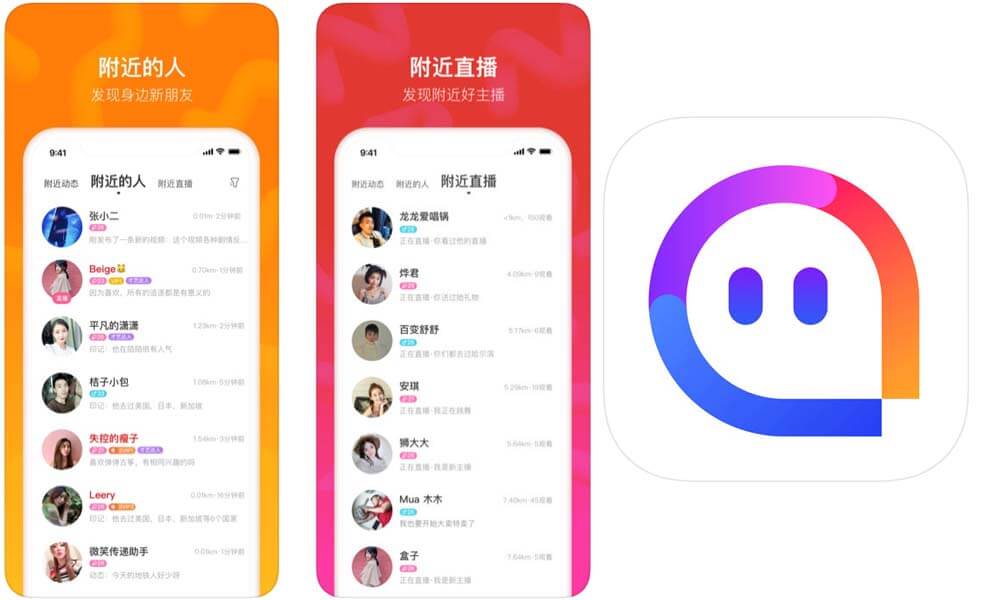 Using Momo, you can meet new people in your city or area. Momo helps you expand your social circle and get you out of your comfort zone. You can meet new people any time, anywhere.
What are the advantages?
♦

ACCURATE GEOLOCATION SERVICE
Momo uses very accurate, up-to-date geolocation services, so that the app can help you find people close to your location.
♦ PRIVACY SETTINGS
You can set up invisible status, or silent mode timer. You can also block people you don't like.
♦ FREE TO USE
The app is free, and you can easily share text messages, pictures, and location.
♦ STICKERS AND EMOJI
The emoji store provides a rich range of emoji to make the chats more lively and engaging.
♦ TRANSPARENT COMMUNICATION
With message statuses like "发送中 (being sent)", "送达 (delivered), "已读 (read)", you can always check if a person got/read your message.
♦ EXCLUSIVE FEATURES
You can enjoy the various value-added and exclusive services that Momo introduces on a regular basis, including basic membership services, promoting services, and emoji store services.
♦ PERSONAL INFORMATION CARD
The app asks you to provide your age, astrological sign, hobbies, occupation and other information. You can also upload eight photos. This way, app members can know each other better, and the app can find a suitable match for you.
♦ CROSS-PLATFORM
Mom runs on both Android and iOS.
2. 探探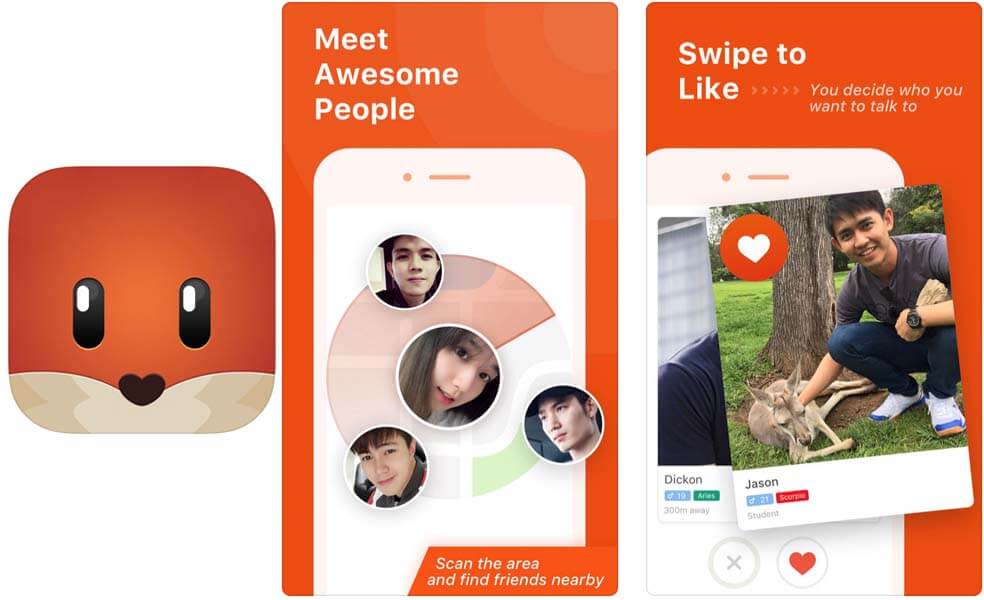 Tantan is a very popular dating app, popular among foreigners. Tantan is a social app based on AI recommendations, which suggest new people to you. This  AI system makes suggestions based on common interests, friends, places visited, etc. It collects all the data and then provides you with suggestion of people you may like or people of the same interests so that it helps you to make new friends.
What are the advantages?
♦

EASY TO USE
Tantan uses the same set-up as Tinder. You will see the pictures of other people, suggested to you by the system, you can also see the main information about this person. Then if you like him or her, you just swipe right, if not – swipe left. Easy!
♦ ADVANCED SUGGESTIONS
The app suggests you people based on common interests, common friends, visited places, etc.
♦ ACCURATE GEOLOCATION SERVICE
It uses very accurate geolocation services that are up to date, so that the app can help you to find strangers close to you location.
♦ PROTECT FEMALE USERS FROM HARASSMENT
As soon as the male user sends the word "date" or similar sensitive words in a chat, the system will immediately pop up a window asking if the female user has been harassed. If the girl answers "yes", a customer service will investigate this request. If a complaint is confirmed, the male user will be banned and permanently unable to register in this app.
♦ PRIVACY PROTECTION
Tantan does its best to prevent harassment, so you can easily block people you don't like.
♦ NEW FUNCTION FOR ROMANTIC USERS
In order to make female users feel more romantic, the latest version of Tantan launched the "pass by" function, recommending you users passing by or visiting the same places as you every day. You can see where and how many times you already walked past this person.
♦ CHAT FILTER
There is a function that it's possible to open the chat only if you like each other (so the person you like has to confirm that he/she likes you too).
♦ CROSS-PLATFORM
Mom runs on both Android and iOS.
[If you like it, you can also have a look at our post about what to expect at a Chinese wedding.]
[To learn more about dating, you can read our article about dating in China!]
Have you used any Chinese dating apps? Do you find them convenient? 
Share your opinion in comments below – or tweet us at @thatsmandarin!