Guide to Chinese Hotpot. Types of Hotpot.
China is famous for its rich food culture, and hotpot is one of its typical aspects that foreigners really enjoy. That's why a big simmering pot accompanied with a great variety of side dishes and dipping sauces creates a traditional illustration of Chinese hotpot dinner. There are different types of hotpot in China depending on the region, and each of them has their own specialties. The most common way to eat hotpot is by heating up all the raw ingredients in a boiled soup base and then dipping them in some sauce. Well, if you haven't had a chance to try Chinese hotpot, this article will help you gain a basic understanding of some of the most popular types of hotpot in China. Here's a small guide to Chinese hotpot types.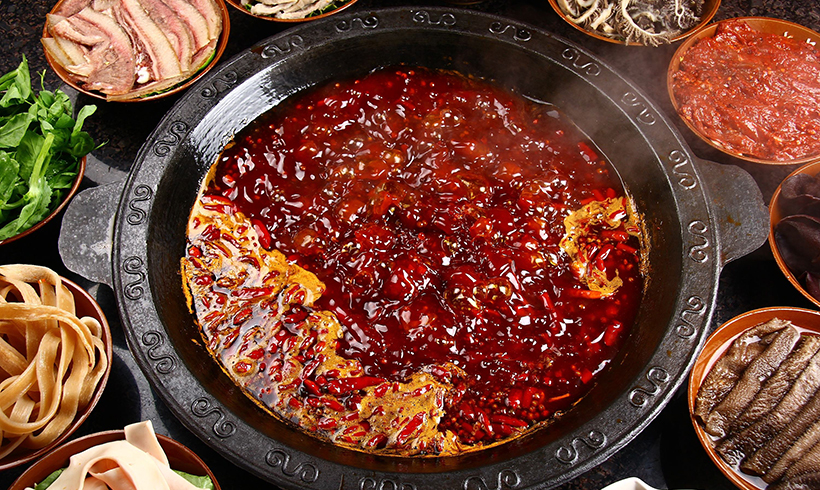 1. Chongqing Hotpot
The popularity of Chongqing hotpot (重庆火锅 chóng qìng huǒ guō) is a reflection of the fact that Chinese people are addicted to spicy food. The numbing hot flavor is the quintessence of Chongqing hotpot. You can literally see it in every single ingredient from the soup base to the dip. In fact, whether a Chongqing hotpot feast turns out to be splendid or not largely depends on the soup base.
The preparation of a soup base involves the use of a variety of traditional Chinese ingredients and seasonings. Mostly, it includes fermented soybeans, dried chili, fennel, cinnamon, etc. These ingredients and seasonings not only enrich the flavor of the soup base but also stimulate appetite by giving off an aromatic spiciness.
When it comes to what dishes to order for Chongqing hotpot, goose intestines (鹅肠 é cháng) are something that you must try. You will definitely fall in love with the unique crunchy texture they have. It might sound a bit strange to foreigners, but it's actually quite common for Chinese people to eat animal organs when having hotpot or barbeque.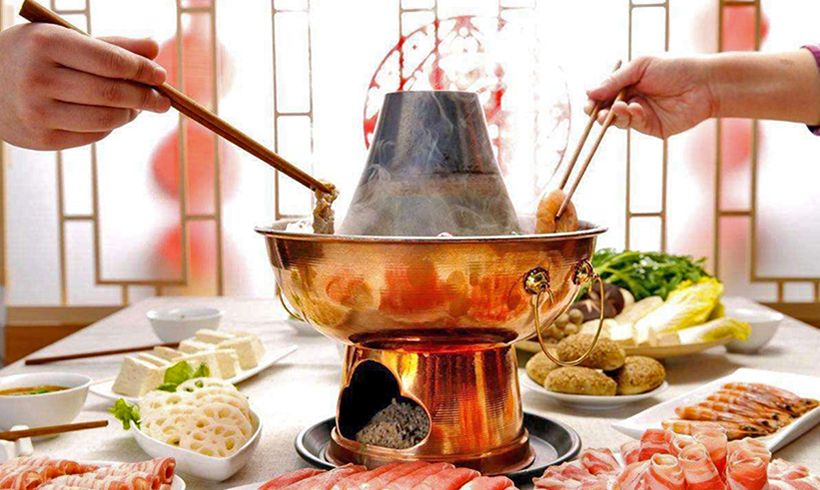 2. Beijing Mutton Hotpot
Beijing mutton hotpot (北京涮羊肉锅 běi jīng shuàn yáng ròu guō), or sometimes known as Mongolian hotpot is an authentic Beijing-style dish which is extremely popular among hotpot lovers all year round. This hotpot presents itself as a copper simmering pot of plain soup (or sometimes just water) served with different kinds of meat-based dishes (primarily raw mutton), vegetables and seafood. The simplicity of eating Beijing mutton hotpot is one of the main reasons why it is prevailing across China.
All you need to do is to simply place a slice of raw mutton into the pot and boil it for around 10 seconds. Then soak it in a dipping sauce blended with different types of ingredients based on individual preferences. In addition, the quality and freshness of mutton play a tremendous role in preparing a decent Beijing mutton hotpot meal. That's why it has now become an excellent choice for a joyful gathering.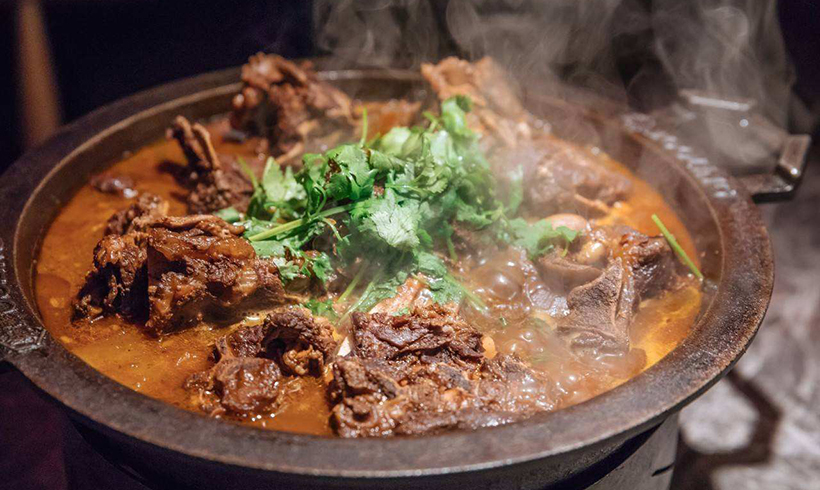 3. Lamb Spine Hotpot
Lamb spine hotpot (羊蝎子火锅 yáng xiē zi huǒ guō) is rapidly gaining popularity among young people in China. As you can tell from its name, lamb spines are the "protagonist" of this dish. It's said that lamb spines are low in fat and cholesterol, and rich in protein and calcium. That's why people believe that eating lamb spine hotpot on a regular basis helps strengthen the immune system. In some parts of China, it has now become a trend to have a lamb spine hotpot party at home.
One important step of preparing lamb spine hotpot is to use white pepper and cumin to remove the gamey smell of lamb. As a result, its soup base (after heating up with lamb spines) goes very well with some other side dishes like Chinese cabbage, tofu, and potatoes.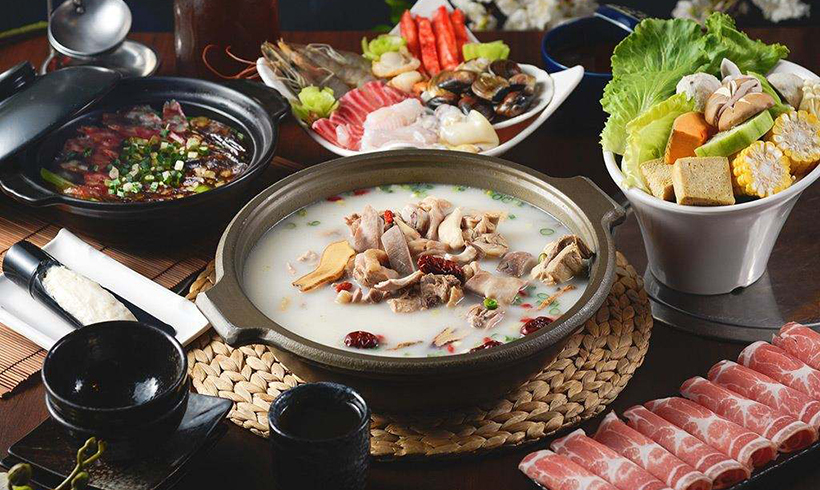 4. Cantonese Hotpot
Cantonese hotpot (粤式火锅 yuè shì huǒ guō) is what most hotpot places offer in Guangdong province and Hong Kong. Unlike the traditional hotpot, Cantonese hotpot puts emphasis on the diversity of seafood dishes. For example, fish balls are the most popular choice. However, some features of traditional Chinese hotpot you can still observe in Cantonese hotpot. For instance, it's usually served with various meat dishes including pork, beef, and lamb.
One thing that might be disappointing for spicy food lovers is that you can rarely find a hotpot with a spicy soup base in Guangdong and Hong Kong. Because local people show preferences to the plain soup.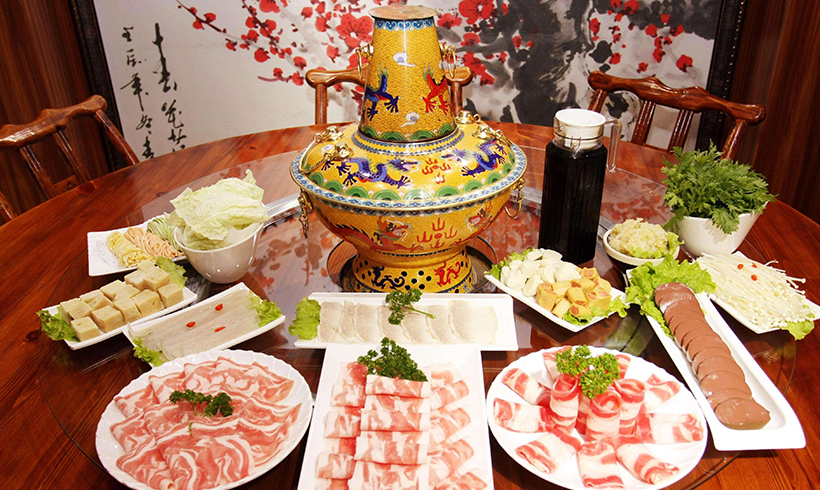 5. Manzu Hotpot
As suggested by its name, Manzu hotpot (满族火锅 mǎn zú huǒ guō) has been handed down from generation to generation within the Man (满 mǎn) ethnic minority group. People believe that Manzu hotpot was originated in the Jin Dynasty. The ancestors of the Man people formed their eating habits by adding raw deer meat into boiled chicken soup.
Nowadays a special feature of Manzu hotpot is that its soup base contains a fairly large amount of sauerkraut. That makes Manzu hotpot a perfect blend of pickles and meat-based ingredients.
[ If you like Chinese cuisine, have a look at our article about common Chinese breakfast items and check if you tried all of them ]
Which one is your favorite?
Leave a comment with your answer below – or tweet us at @thatsmandarin!
« I confirm the subscription of this blog to the Paperblog service under the username thatsnika8 ».