What is the most convenient way to travel around China? By train, of course!
And what is the easiest way to buy a ticket? Using your phone!
Today, China is one of the most comfortable countries to live in. You can do literally anything using your phone: buy airplane or railway tickets, movie tickets, order food, even pay with your phone at any store. So mobile phone is an extremely useful device in China.
And today I want to talk about two things: first, how to buy railway tickets in China, and second, how to get on the train. So… off we go!
Step 1: Buying Train Tickets
Of course, you still can buy tickets at the railway station. But there are also a few very popular and convenient apps for buying tickets.
In this article, I'm going to share 3 of my favorite apps: Taobao (手机淘宝), Qunar (去哪儿) and C-trip (携程旅行). I've written "subtitles" in English to every app for your convenience, but you also can improve your Chinese and be able to read characters by yourself 😸
Taobao (手机淘宝)
First, a few words about Taobao. This app definitely has to be in your phone if you're planning on staying in China for a while. You can order almost anything there – from clothes and furniture to food. And you also can buy tickets through this app. Just type in 火车票 (huǒchēpiào, "railway ticket") and choose the type of train you prefer.
Qunar (去哪儿)
Qunar is an app where you can buy all sorts of tickets: plane, bus, ferry or train. I used to use this app as I found it the most convenient. But the last time I wanted to buy plane tickets, the app wouldn't verify my order – until I typed down a Chinese ID number. This ID is like a passport in China, but I didn't have one, because I'm a foreigner – so I had to find another app to buy tickets. (Note: I still recommend this app, it's easy and plain, and many of my friends still use it. Maybe in my case it was just a one-time problem).
C-trip (携程旅行)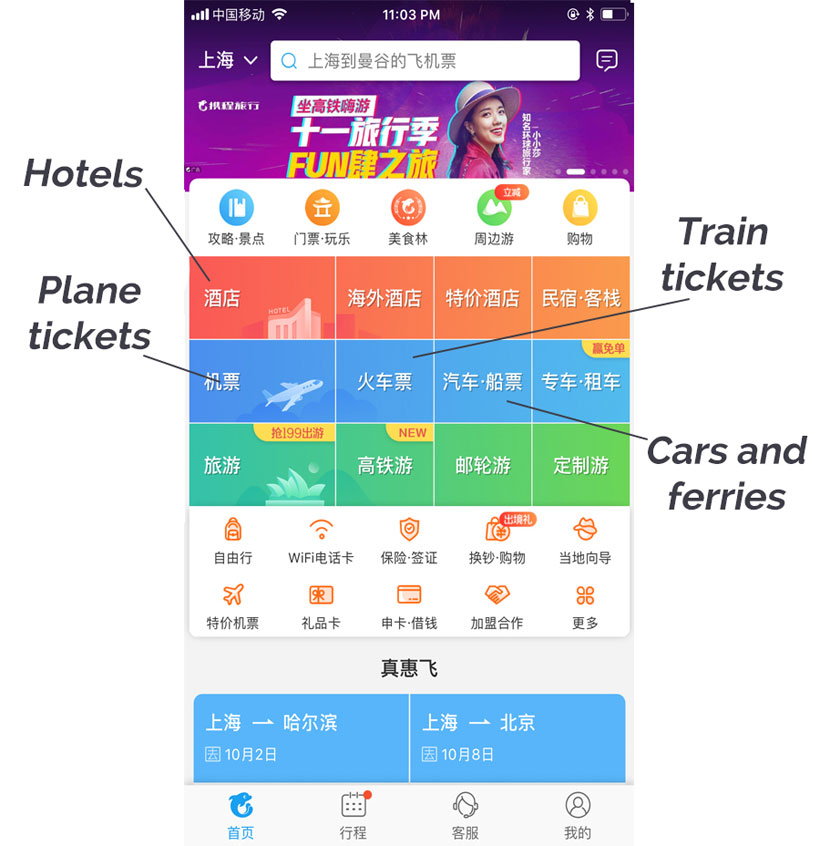 Finally, here comes the third app which I found lately, and which turned out to be my favorite now. Number 1 on my list: C-trip! It's convenient to use, the interface is very user-friendly, and it's totally useful! All you need to do is type in 火车票 (huǒchēpiào, "railway tickets"), choose your destination and dates. Then click 查询 (cháxún, check) – and here you are!
The tickets will be automatically sorted from cheapest to most expensive.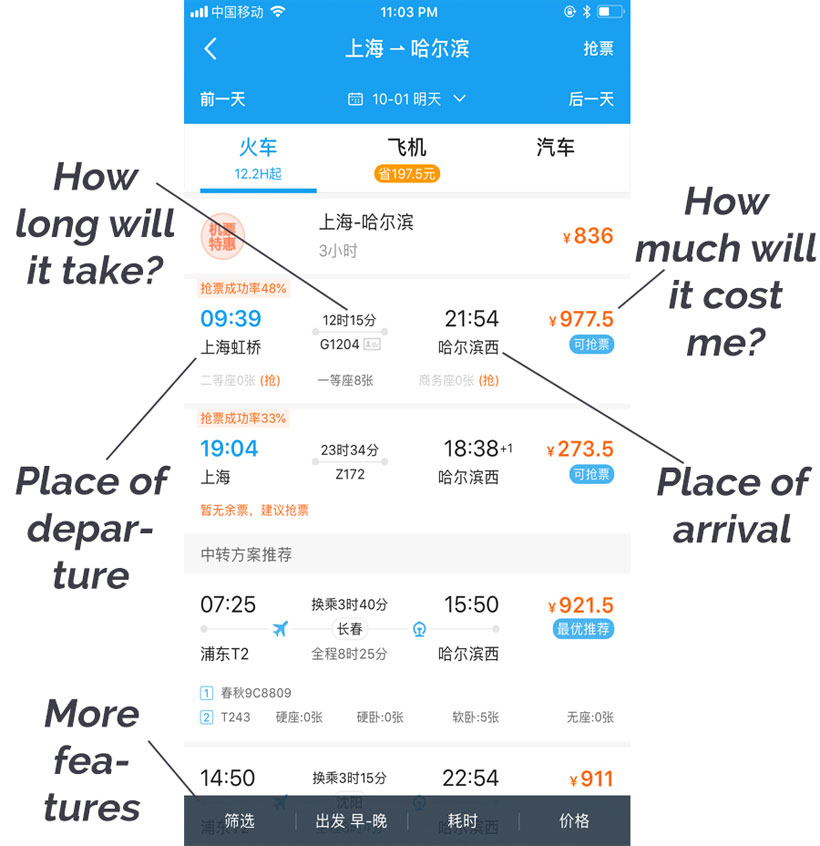 Of course, you can order (or sort) your search results the way you like at the bottom of the screen.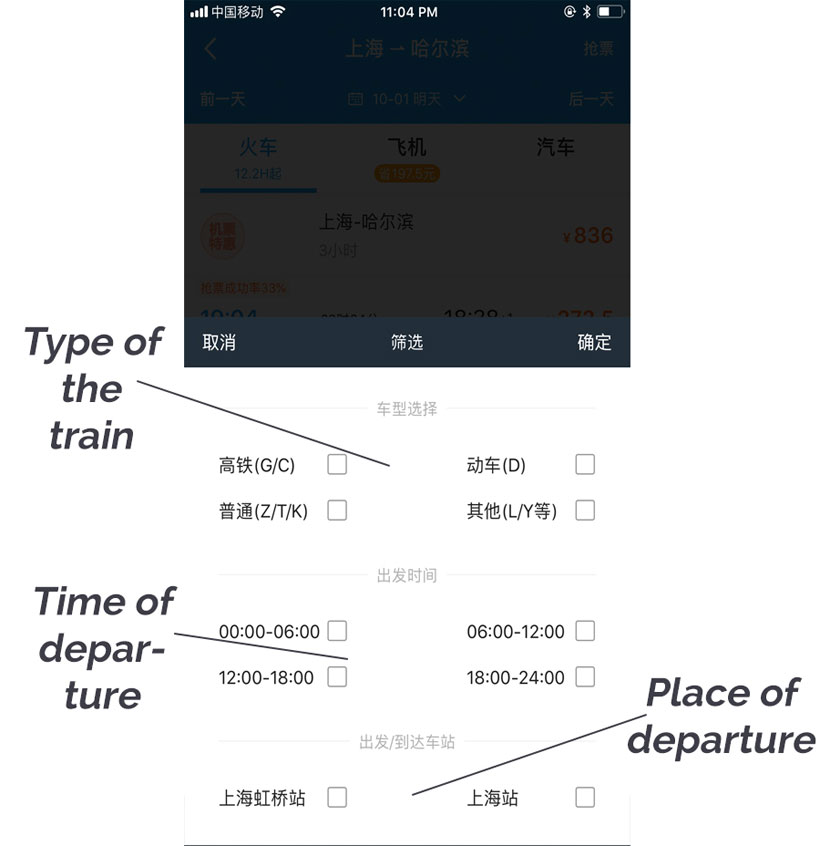 Once you've chosen the train and the seats, you can make a payment right inside the app. The app will show you a confirmation with your order number.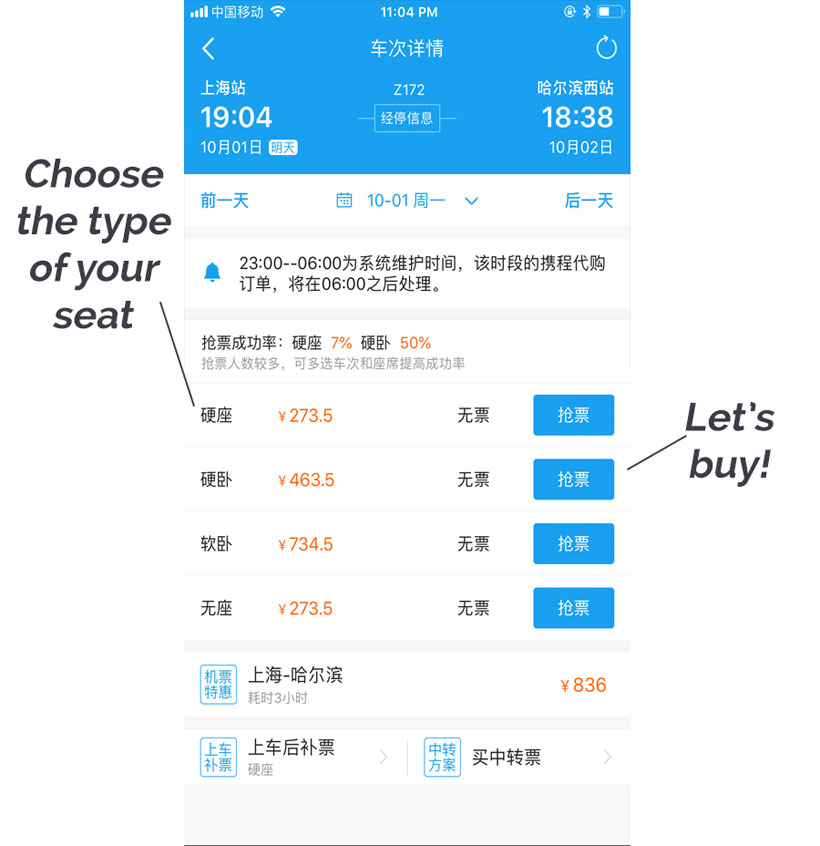 Mind that it's not a ticket! You still have to get the ticket printed out at the railway station. You can do it anytime: either in advance, or just before the departure (There might be a queue during the peak hours, so I recommend you come to the railway station a bit earlier).
Step 2: Printing out your ticket
And now, here comes the most interesting part! That is – finding a place to print out your ticket.
Sometimes it really takes time. You'll see many locals lining up by the ticket machine, waiting to print their tickets. It's not our choice. We are not looking for an easy way! (Just kidding, the truth is, all these ticket machines can be used by Chinese people only – because they require a Chinese ID card, which is an equivalent of a passport in China, as we remember.)
So we've got to find a more conservative way. That is… a real person at the ticket counter! There will be many locals lining up there, too – but there are lots of counters. Not all of them can help us with our problem; some of them would only sell tickets, but not print the tickets you buy via the app. That is why my best advice for you is to ask someone to help you find the right window.
You could say something like: 我要取票,在哪里可以? (wǒ yào qǔpiào, zài nǎli kěyǐ?) – I need to print a ticket, where can I do it?
Or, what is sometimes easier, just show them a screenshot from the app – they'll understand what you need.
By now, you've waited for your turn in a queue, got the ticket, and entered the railway station. Remember: first you should print the ticket, and only then you can enter the station. Don't forget to take out your passport, as they will require you passport and ticket at the entrance.
Step 3: Finding the platform
The most difficult part is over now! Now comes the easy one.
Find your platform. You can check it at the big screen inside the station, or you can check it just by having a look at your ticket. Every detail of your trip is included there: your platform, train number, gate, time of departure, and so on.
Step 4: Navigating your ticket
Now let's have a look: what info can we find on our ticket?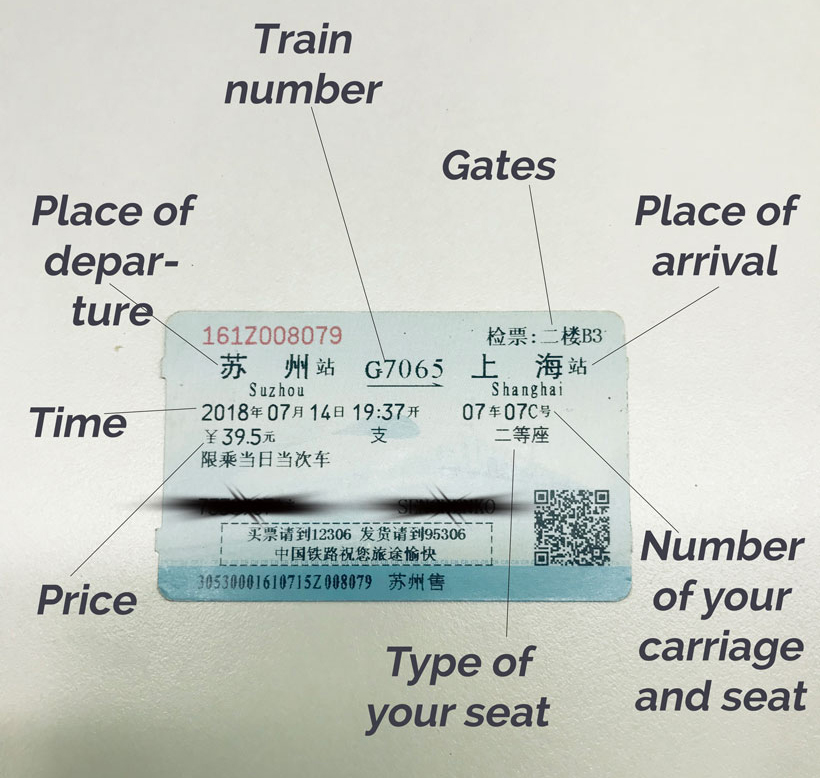 Step 5: Getting on the train
Gates to the platform are always closed, and you have to wait inside the station. 15 minutes before the departure, the gates will open – and you will be allowed to enter the platform by scanning your ticket at the gate.
Wait till your train arrives. (Sometimes, the platform has marks to indicate where each carriage stops, so you can find a place to wait for it in advance. But it's not always the case, so just wait until the actual carriages arrive, with numbers on them.)
Get on the train, find your seat – and off you go! To the new cities, new adventures and new experiences!
Wish these tips will help you in your journey. Have a nice trip and good luck. And take care! 
Share your opinion in comments below – or tweet us at @thatsmandarin!