Rumours about the new HSK system have been going around since last year, but this week, official standards were released, so we don't have to speculate any more!
The official data from Hanban came in a 260-page document. We've looked through it and turned it into an infographic. But if you prefer text – scroll down below 👇
New HSK Levels 2021: Infographic
Here's a quick summary of the things we know about the new HSK system & levels.
New HSK Levels: Details Q&A
1.
When

will the new HSK standards come into effect?

The new HSK standards will be effective on July 1, 2021. 
2. How different is the new HSK from the old HSK?
Very different in 3 ways.
First, there will be 9 New HSK levels instead of 6.
Secondly, each level will have a set number of 300 new characters in each level, and a varying number of 500 to 1140 new words in each level based on all possible combinations of these characters. This means that Levels 1, 2, 3, 4 will be harder than before, but Levels 5 and 6 will be a bit easier – so the whole learning process will be more gradual.
And thirdly, the word lists have been revised to exclude some outdated words (e.g. "fax").
Now let's look at each of these points in detail.
3. How many
levels

will be there in the new HSK?

The new HSK system will have 9 levels.

The new system is called "Three levels and nine bands" – with "levels" referring to 3 language levels (Beginner, Intermediate, Advanced) and "bands" referring to 9 HSK Levels (1, 2, 3, 4, 5, 6, 7, 8, 9).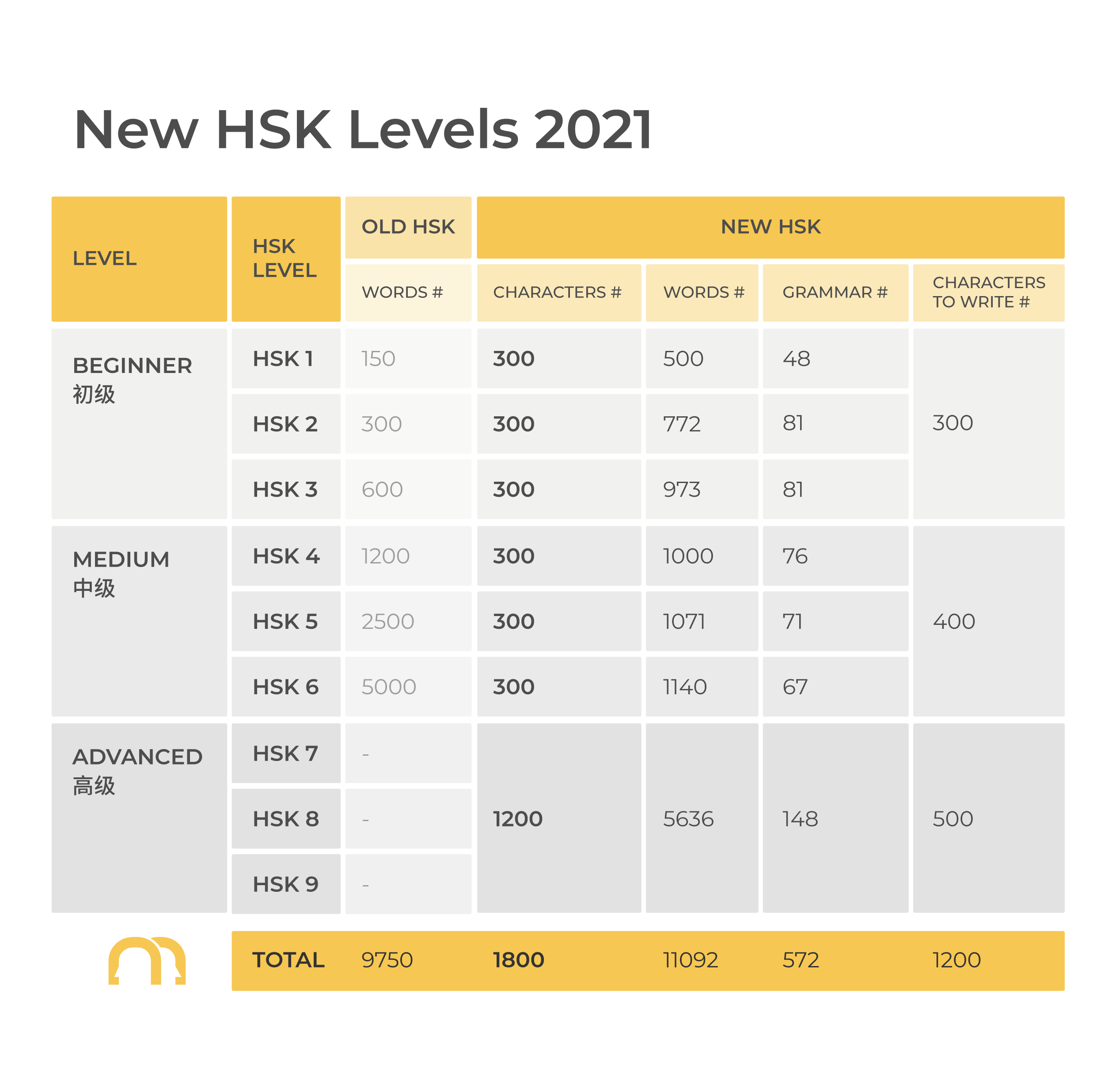 4. How many
words

will each new HSK level have?

There be 300 new characters in each new HSK level.

Since characters can make up many more new words when put together, the number of words in each new HSK level will vary. It's the snowball effect: Level 1 is going to be a bit easier, since only 500 words can be made of 300 characters; but when you move on to HSK Level 2, you will have all the combinations of the new 300 characters PLUS the 300 from the previous level.
5. Why there are
so many more

words in the new HSK levels 1, 2, 3, 4?

The old HSK system had a big disadvantage: it was very easy to pass HSK 1 and HSK2 (with only 150 words in each level), but really difficult to get to HSK 5 and 6 (with 2500 and 5000 words respectively).

So the new system tries to solve this problem by adding more words to HSK Levels 1, 2, 3, 4 to "spread out" the new words across levels, and to make the learning progress more gradual.
6. What are the new advanced
HSK levels 7, 8, 9

all about?

The old HSK only had 6 levels. In the new HSK system, they added new Levels 7, 8 and 9. These levels will higher than the old HSK6, and targeting higher proficiency levels (think of them as of Chinese for academic purposes).

If you look at the levels table, you will notice that HSK Levels 7, 8, 9 share the total number of new characters (1200) and new words (5636). It means all Level 7-9 test-takers will take the same test, and based on the score they get, they will qualify either for Level 7, 8, or 9.
7. What does this change mean for That's Mandarin and NihaoCafe?
We've been excited about this news since the beginning. That's Mandarin uses its own, in-house curriculum developed for NihaoCafe. It is roughly based on HSK levels, but features many more important and handy words from everyday life. So we are happy that HSK has finally caught up! For example, in our NihaoCafe Level 1, we have 547 new words. And according to the new system,  there will be 500 words  in the new HSK 1 — so our level will be covering just a bit more.
For That's Mandarin curriculum development team, this means that in the upcoming months we will need to update the HSK tags for every word in the system, and make sure that we are not missing out on any of the new words.
To Be Continued
We hope this information was helpful. We will keep updating this post as we get more familiar with the 253-page document published by Hanban.
If you are interested in learning more about the HSK, including information about the different levels, the benefits of taking an HSK exam and an expected timeframe for learning, have a read here!
Happy learning!
P.S. if you have any questions, please feel free to ask them in the comments below. 👇
In our previous posts, we've looked at the New HSK 1 and the New HSK 2. Let's continue exploring the new HSK and look at the new HSK3 Vocabulary Word List for Level 3 in 2021. For a free HSK3 PDF download, scroll down to the bottom👇 New HSK 3 Word List Infographic New...
read more