If you've been learning Chinese for a while, you probably know that new words are difficult to memorize — especially when they are snowballing with each new lesson. After a while, managing your review sessions becomes as important as learning new things.
Sounds tiring, doesn't it?
Well — not when technology is there to help. Thanks to our friends there at Hack Chinese, the problem of learning and reviewing Chinese vocabulary has finally been addressed in a proper manner. With their powerful Chinese learning app, learning, managing, and reviewing your vocabulary lists will become as easy as saying 'nihao'.
Hack Chinese is a holistic Chinese learning app mainly designed for vocabulary-building through spaced repetition.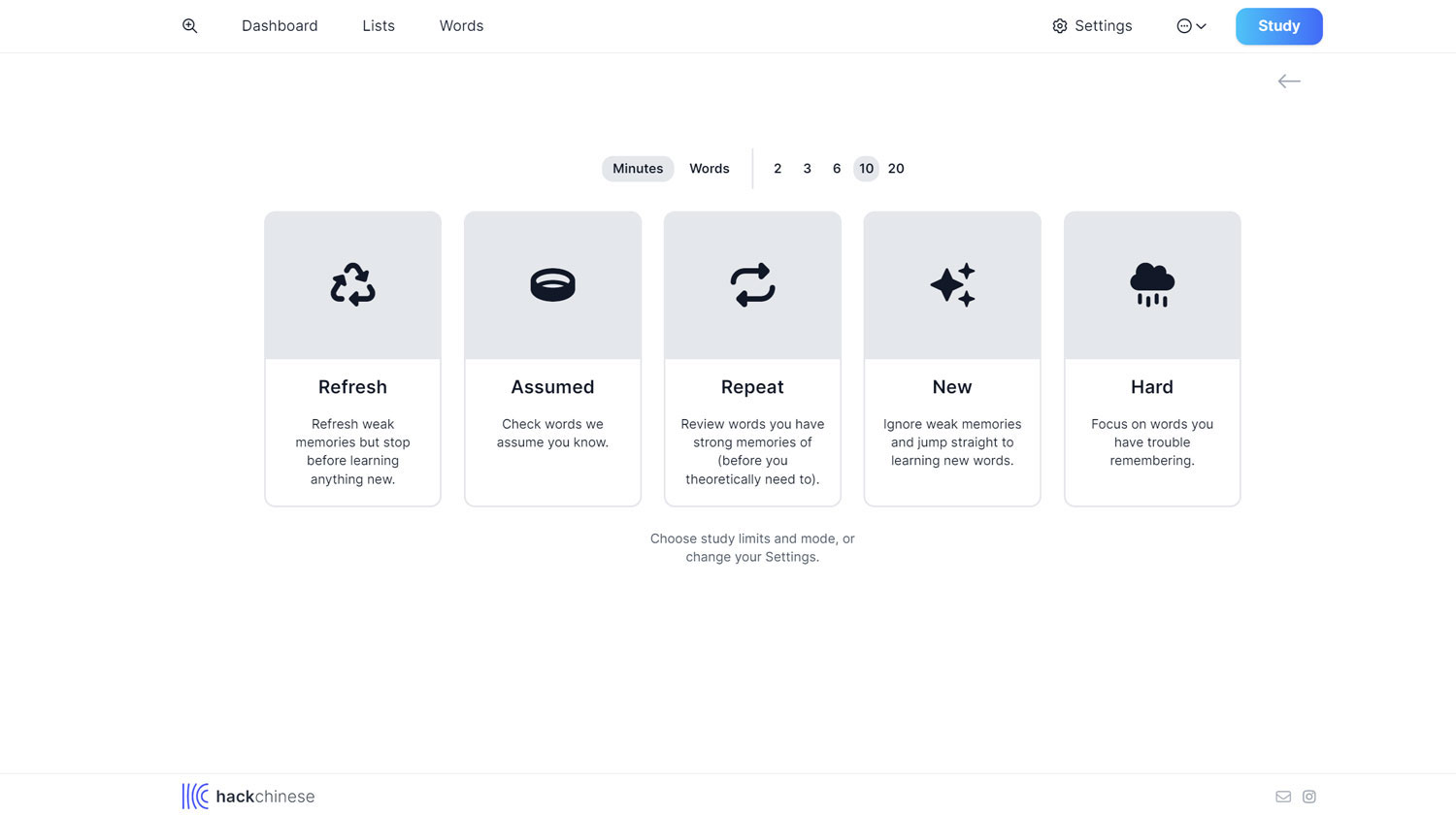 It provides you with an opportunity to make your own study plans, and hence create a learning pattern that would meet your specific needs and lay stress on what you need to improve.
Starting with Hack Chinese
Once you start your Chinese learning journey with Hack Chinese, you will come across a simple but interactive interface.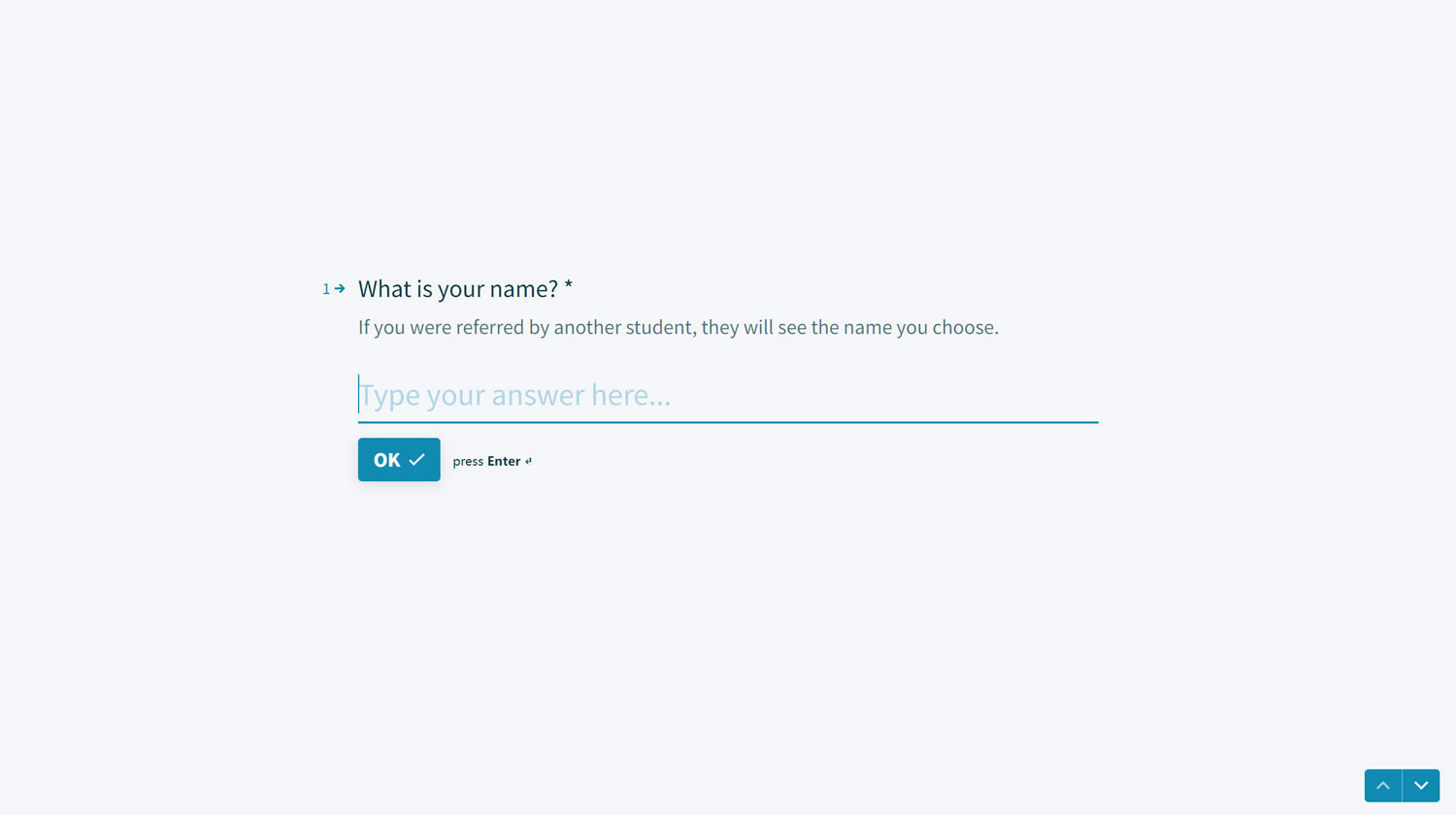 Your specific requirements and learning goals will be taken into account after you answer several questions related to your learning preferences and objectives through a few minutes study session. Everything is designed in a way that makes you feel like Hack Chinese is communicating with you face to face.
At loading, Hack Chinese offers tips to help you improve your Chinese language skills step by step and optimize your learning process.
Learning a language is a marathon rather than a sprint.
One of the main advantages of Hack Chinese is that it can help you effectively expand your vocabulary range.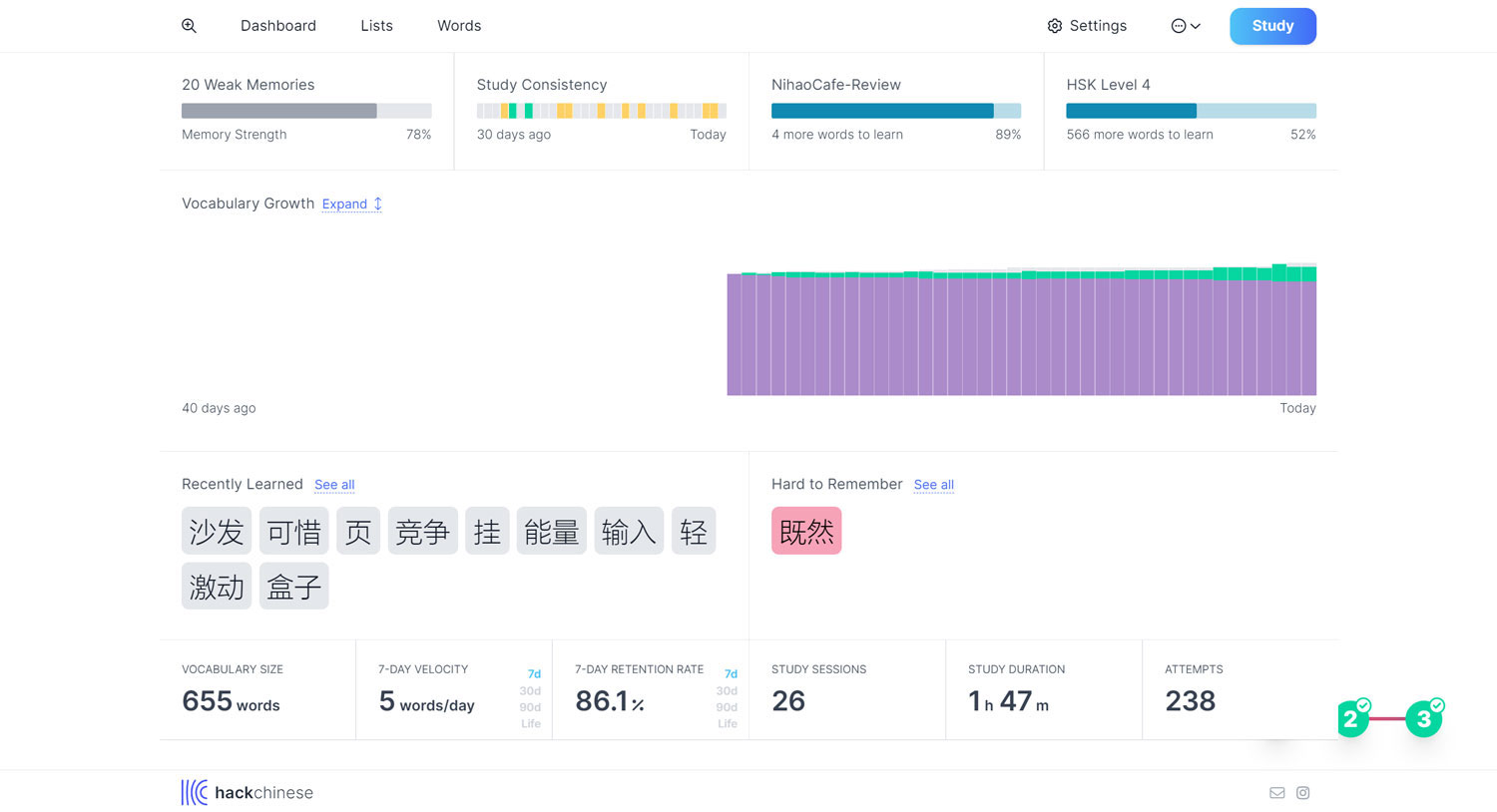 CUSTOMIZED LISTS
In addition to the full HSK vocabulary lists available in the app, Hack Chinese provides you with the opportunity to create your own word lists based on your learning requirements. If you have a list of words in Excel format, you can send it to Hack Chinese for them to add it to your account. Besides, you will be able to sort words into categories to improve your learning efficiency.
STUDY REMINDERS
As a Chinese language school, we understand that memorizing a large number of words can be a challenge for most Chinese learners. Some words that are not commonly used can be easily forgotten if you don't revise them on a daily basis, which means consistency plays a tremendous role during your learning process. The Study Consistency session shows your learning frequency, which reminds you of your daily learning duration by showing green, yellow and dark bars, in which the last one indicates that you didn't study at all on a particular day. In addition, the detailed dashboard allows you to have a clear idea of your vocabulary size and learning speed.
SPACED REPETITION TOOLS
When it comes to memorizing new vocabulary words, Hack Chinese also emphasizes the importance of repetition. All the words you have learned will be divided into two groups: Strong Memory and Weak Memory. Once you have thoroughly mastered a word in terms of its pronunciation and definition, it will be categorized under Strong Memory. Whilst you are continuing learning new words, this word won't be seen in your scheduled learning sessions until it is classified as Weak Memory again. This repetitive process is a very effective way to help you memorize new words and expand your vocabulary range.
Hack Chinese incorporates various vocabulary lists such as HSK and BCT for you to solidify your knowledge of Chinese vocabulary.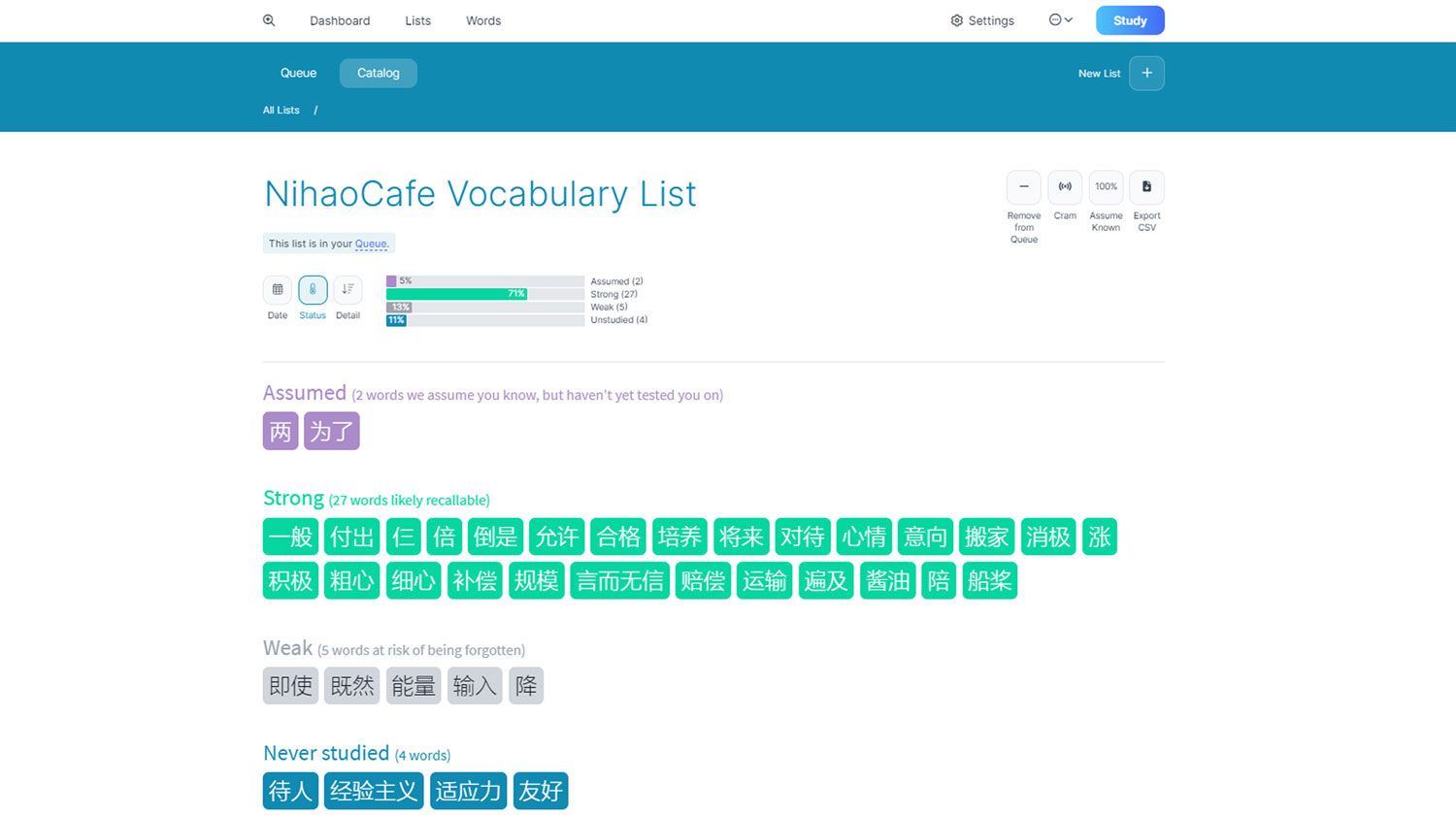 USER-FRIENDLY DASHBOARD
The dashboard is designed in a user-friendly way as all the words are clearly listed under different categories.
LIBRARY OF TEXTBOOKS
Furthermore, a database including some of the most popular Chinese textbooks is also available on the dashboard. So Hack Chinese enables you to better understand the usage of different words by helping you learn them with texts and dialogues associated with daily life situations.
CUSTOM-MADE WORD LISTS
If you choose to study Chinese at a Chinese language school, you will be surprised by some of the modern technologies adopted during the learning process. For instance, That's Mandarin owns an in-house developed online learning platform called NihaoCafe for students to improve their comprehensive language skills. On one hand, NihaoCafe is equivalent to an "e-textbook" containing practical texts and dialogues, as well as grammar and vocabulary exercises for students of different levels. On the other hand, Hack Chinese allows you to effortlessly create your own NihaoCafe vocabulary list, and all the words will be saved automatically and made available for review when needed. Therefore, That's Mandarin and Hack Chinese can ideally work in a pair to help you improve your Chinese language skills.
Hack Chinese is a brilliant system for HSK preparation.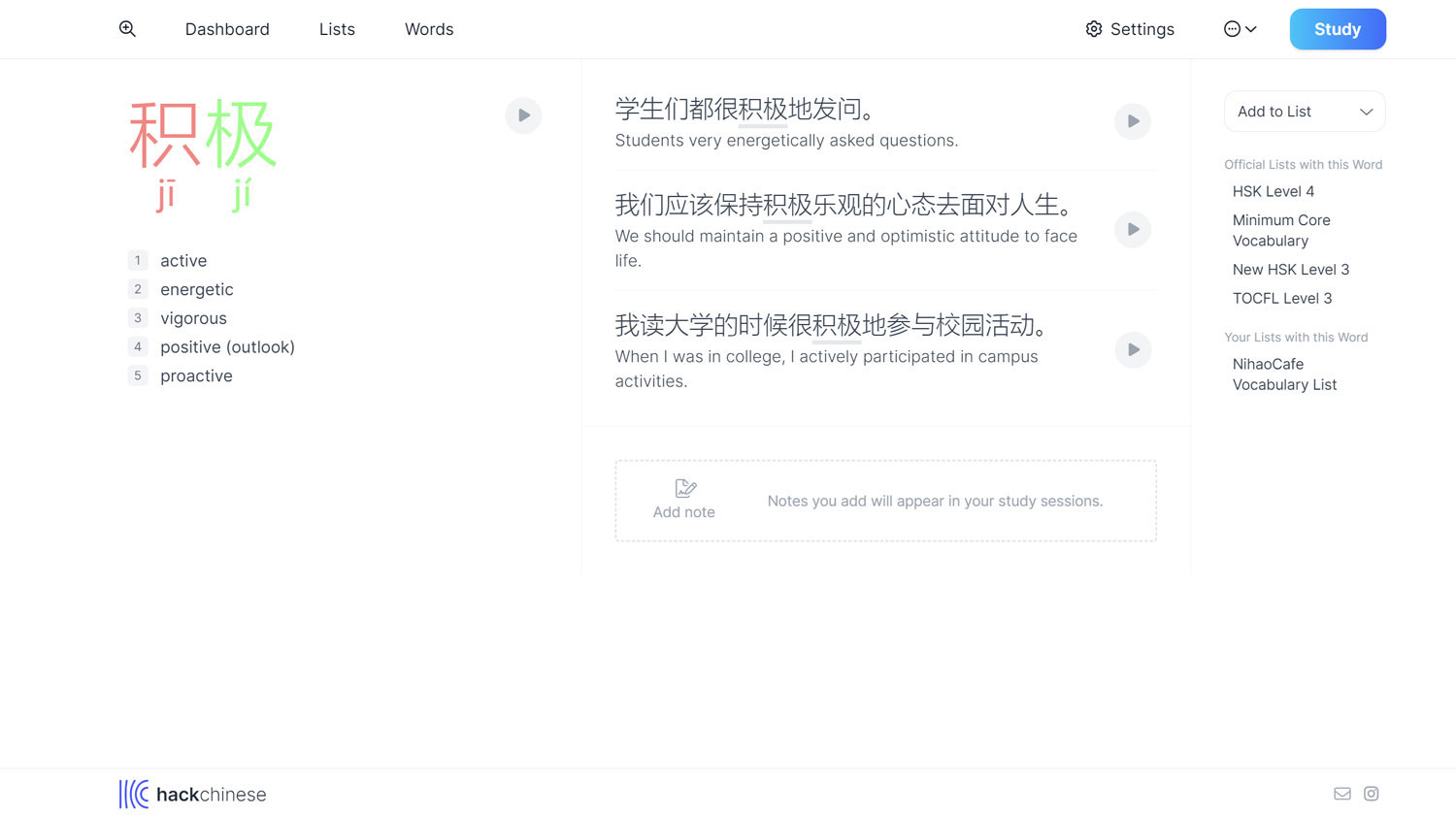 HSK Lists
It incorporates comprehensive vocabulary lists covering HSK1 to HSK6, as well as error-free lists from different textbooks, graded readers and apps.
PRONUNCIATION & MEANING
Hack Chinese pays great attention to helping you solidify your knowledge of the pronunciation and meaning of each new word. Every word is provided with several English translation options so that you can have a thorough understanding of its different meanings. In addition, Hack Chinese delivers high-quality, natural sounding audio for all the words and example sentences.
CONTEXT
The learning process is designed in such a way that it allows you to gain a good understanding of how to apply the words to real-life situations by providing practical examples. When it comes to vocabulary review, each word is explained in detail, with its different meanings and example sentences listed side by side.
Hack Chinese offers its services at a competitive price. There are two options available:
$8/month billed annually
$12/month billed monthly
You can start with a free trial with full access for 20 days.
Hack Chinese is a professional tool that delivers extraordinary results. It is designed to help you ace Chinese exams and succeed in your Chinese learning. We believe that you will be able to instill confidence in yourself and have an enjoyable Chinese learning experience by choosing Hack Chinese.