The Shanghai Disneyland Park has finally been opened and it is the world's sixth Disneyland Park and the first in China!
Shanghai Disneyland
Shanghai Disneyland Park is officially it the largest Disneyland Park in the world, boasting the construction area of 287 acres.
It also broke a few new records – for owning the best or the most in some features, like the tallest theme castle, which is Enchanted Storybook Castle.
It also has rides and attractions that are unique and the only ones in the world.
Although Disneyland Park is traditionally considered to be a western-style theme park, Disney managed to incorporate some Chinese elements into its Shanghai Disneyland design. For example, you can see some Chinese zodiac murals at the Garden of Imagination. There are so many fun attractions at Shanghai Disney that you don't want to miss. Below are some of our favourites.
Top Shanghai Disneyland Attractions
1. Enchanted Storybook Castle
No other place at Disneyland is filled with more romance, happiness and adventures than the Enchanted Storybook Castle. The majestic Enchanted Storybook Castle represents itself as a wonderland where every child dreams to be. Our beloved Disney Princesses, like Cinderella, Rapunzel, Belle and Snow White appear from time to time to give you a warm and royal greeting that you will never forget. If you encounter one of the Disneyland princesses in the castle, don't miss the chance to take a picture with her.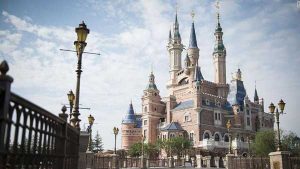 2. Alice in Wonderland Maze
Alice in Wonderland Maze in Shanghai Disneyland is the only one among the existing Disneyland Parks.  You can choose your own paths through the maze of Alice's wonderland to finally join the mad tea party. On your way to the destination, you will bump into different characters from the movie, such as the Cheshire cat.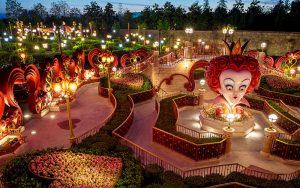 3. Seven Dwarfs Mine Train
Based on the classic movie "Snow White and Seven Dwarfs", Seven Dwarfs Mine Train makes a fun ride for your family. The mine train will take you travel down and around the mountain and deep into the mine shaft. Inside, you will have to chance to see seven dwarfs whistling and singing while collecting glittering diamonds, sparkling emeralds and other precious gems. No one works harder than these dwarfs at Disneyland, so make sure you give them a visit.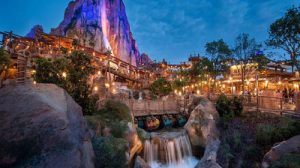 4. Honey Pot Spin
Honey Pot Spin is famous for the adorable  character Winnie the Pooh, who likes filling up his pot with honey. Just jump into one of the 18 giant spinning jars and control the direction and speed to rotate at a speed you like. Just like Seven Dwarfs Mine Train, Honey Pot Spin is also the right place for good family memories.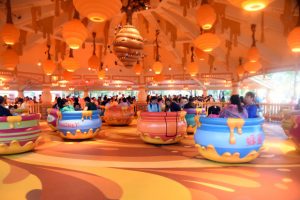 Disneyland carries through its promise as being the happiest place on earth. And now that happy place is available in Shanghai. Why not make your China study trip even more exciting with a visit to Shanghai Disneyland?