This week, The Pie News* published an interview with That's Mandarin Language School Founder & CEO, Xiaochao Guo.
*International education news agency based in the UK.
It's such a joy and honor to be able to share your language and culture with foreigners.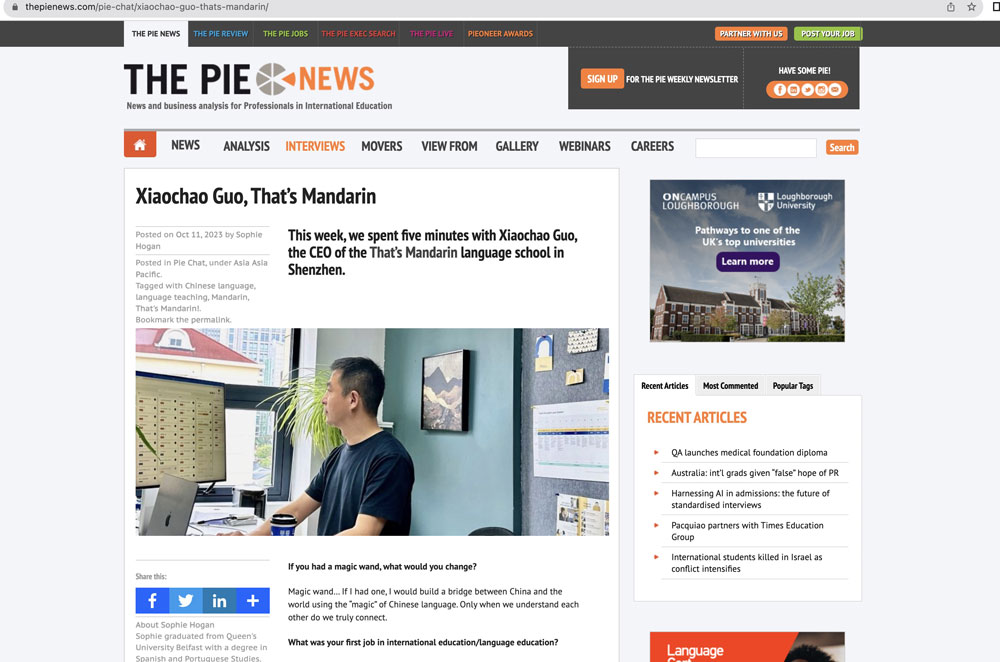 Interview Highlights
In the interview, Mr. Guo shared his experience working with foreign students, and discussed some of the biggest challenges in the industry.
Q: Introduce yourself in three words or phrases.
Nihao, wo shi Xiaochao! This means "Hello, I'm Xiaochao" in Chinese. Replace my name with yours, and you'll be able to introduce yourself in China.
Q: What's the most rewarding part of working with international students?
Once they [international students] start learning Chinese, many students manage to break through the stereotypes about China and discover subtle differences between the Chinese and foreign cultures. Their journey is often from not understanding, to falling in love with Chinese culture – because it's so vibrant and diverse.
Q: What's the biggest challenge to your profession?
Keeping pace with modern technology. Our goal is to make our Chinese language learning platform, NihaoCafe, both functional and aesthetically cool. We work every day on making it better for our students. It's not easy to keep it simple, fun and useful – but if we succeed, it will make the job of learning the most difficult language in the world a little bit easier.
That's Mandarin has has been providing quality Chinese classes to 100,000+ students from around the globe since 2005.
Our first online app was launched in 2010, and has since grown to become a powerful, all-in-one Chinese learning platform NihaoCafe. NihaoCafe makes learning Chinese more fun and engaging and takes learning experience to the next level!
Embark on your Chinese learning adventure with us 🌍